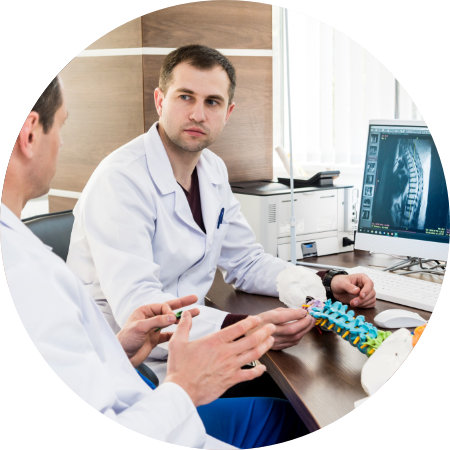 Get advice from real insiders
Real insiders with years of experience, over 1 million data points on real back pain. The combination of knowledgeable and experienced back pain specialists with over 1 million data points based on our treatment. We will point you in the direction that your path to effective treatment can take.
Benefit from the combination of clincical data from our highly experienced specialists using the outputs of artificial intelligence. Find out more and we'll help you make the right decision on how to proceed.
We use real clinical data of World Institute of Pain (WIP) certified physicians who are highly trained and experienced in the treatment of numerous types of chronic and acute back pain.
Our extensive clinical experience and cutting-edge expertise are the foundation. In total, we have performed over 5,000 endoscopic procedures, with at least 1,500 more carried out every year. What's more, we provide assistance to patients with more than 15,000 interventional procedures each year. Information about all the procedures is carefully processed and analysed using the latest technologies to continuously improve the level of our diagnosis and treatment for the benefit of the patient.
Treatment options for you
Submit a completed E-Consultation and Advice.me will comprehensively evaluate the health information you submit.
The originality of our Advice.me assessment lies in the sophisticated combination of the extensive clinical experience of back pain specialists with machine learning outputs.
Please complete the online E-consultation form and describe your difficulties as accurately as possible.
Get a personalised "REPORT" with an assessment of the symptoms you have submitted and prediction as to whether or not you are probably suitable for interventional back pain treatment, along with further recommendations on what steps to undertake for the fastest possible pain relief. Become an active partner in your treatment – send us an online E-consultation today.
The Advice.me online service provides you with a range of valuable benefits in a very short time:
We can help you quickly understand the full range of back pain treatments.
The assessment is sent within 15 minutes. The result of the professional assessment is a report with an assessment of whether or not you are probably suitable for interventional back pain treatment, along with other recommendations on how to relieve your pain. Moreover, you will get diagrams with physio exercises for back pain solution and prevention.